Volunteer opportunity. Get your Green On at Nadaka Nature Park. Help restore this unique urban habitat
By admin - Posted on September 1st, 2013

Nadaka Nature Park, Gresham OR

Volunteer opportunity




Get your

Green

on!

Lend a hand. Help restore this
unique urban habitat.

Cleanup's & Events
at Nadaka Nature Park
Friends of Nadaka have received grants for the development of the Nadaka Nature Park which requires matching volunteer hours so your support is needed and greatly appreciated. See you at the park!
Scheduled Events:

Please check our website &
events calendar (to your right)

While enjoying the park please pick-up any litter and deposit in the trash can near the entrances.
See you at the park!

Where:
Nadaka Nature Park
175th & NE Pacific St
Gresham, OR
Get Map!


On Facebook at
Friends of Nadaka

Nadaka
Photos
Event info
Be prepared to get a little dirty and to have fun by supporting and volunteering with Friends of Nadaka and Wilkes East Neighborhood Association.
Rain or Shine! Come dressed for weather and help improve Nadaka Nature Park. Bring working gloves & a water bottle if you have them. Volunteer as long as you can. Drinks and snacks will be provided for volunteers.
No pre-registration required. Volunteers younger than 18 will need a signed waiver (available at the event).
More Info
For more information about Nadaka Nature Park cleanups or to get involved with Friends of Nadaka contact Lee Dayfield by email at leedayfield@wilkeseastna.org. See our website calendar for more Nadaka Nature Park events and activities.
Metro Nature in Neighborhoods eNewsletter
Subscribe to this eNewsletter to learn about nature-friendly news, activities, learning opportunities, ideas, resources and updates around the region.
---
About Nadaka
Nadaka Nature Park is a designated 10-acre open space "natural area" acquired by the City of Gresham from the Camp Fire organization in 1995 that includes a walking trail loop, tall trees, native plants, and a beautiful grassy meadow. Formerly the Camp Fire Girl organization's Nature Day Camp (Na-Da-Ka). Nadaka is located in the Wilkes East Neighborhood just north of 176th & NE Glisan St. There two public entrances to the nature park. The south entrance is at 176th & NE Glisan (park in St Aidans Church east lot) and the north entrance at 176h & NE Pacific Ave (park curbside). Get Map!
About the Nelson Property
The Nelson Property is a 2.0-acre parcel located adjacent to and south of the City-owned Nadaka Nature Park, fronting NE Glisan Street at NE 176th.
In 2009 Wilkes East Neighborhood Association and Friends of Nadaka successfully obtained a Metro Nature in Neighborhoods Capital Grant, a grant from the East Multnomah Soil & Water Conservation District and a donation from the Nelson Family Trust to purchase the 2.0 arce site for use as a neighborhood park. The Trust For Public Lands negotiated the purchase.
The Master Plan includes approximately 1/3 of the property to be community gardens and orchard. There will also be picnic tables, a nature-based play area, and public restrooms. A walking loop will connect the Nelson Neighborhood Park with Nadaka Nature Park. You can view the master plan drawing here. The Nelson Property Summary Report and Community Forum Summary Reports (located here, and here) are available on the City's website.



OUTLOOK PHOTO: JIM CLARK.
Garden Project Plan. Click to enlarge
Related Content

---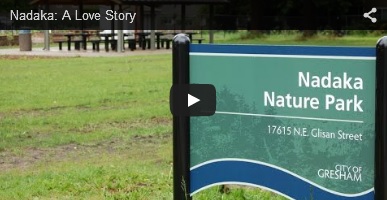 See how perseverance and community involvement built Nadaka Nature Park
---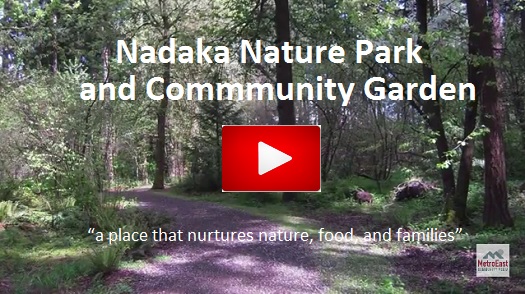 ---
---
Supporters
Nadaka Nature Park is supported in part through the generous efforts of these organizations: (Hover supporter's logo for additional information)