H.B. Lee Middle School
H.B. Lee Middle School is grades 6 through 8 and is located at 121 NE 172nd Ave., Portland, OR 97230, phone 503.255.5686, right next to the Columbia View Park.
The student body consists of approximately 825 students. Feeder schools are Margaret Scott Elementary, Wilkes Elementary and Glenfair Elementary.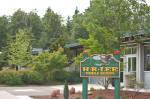 H.B. Lee Middle School